un couteau > Olivier Poussier, Château Laguiole corkscrew
Olivier Poussier
Château Laguiole corkscrew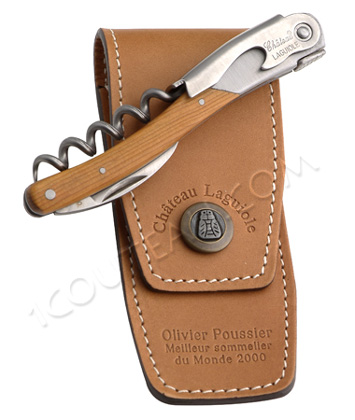 Olivier Poussier, Château Laguiole corkscrew Versailles Yew tree handle
delivered in a stamped light brown leather.
made in France



Corkscrew Château Laguiole OLIVIER POUSSIER best sommelier of the world in 2000
ceation Guy Vialis, Yew tree from Versailles handle
Due to the storm of 26 décember 1999, a important number of trees was uproot or endomaged, also in the park of the château de Versailles. Guy Vialis buyed the most beautiful stump and many other trees during the auction sale in october 2000.

Wood from the park of the Château de Versailles
YEW TREE
JUNIPER TREE
THUYA TREE
TULIPIER TREE
Vidéo: Food and wine pairing by Olivier Poussier, Head Sommelier at Lenotre, Best Sommellier World in 2000

»
LAGUIOLE :
Eloge du couteau
Daniel CROZES

»
LE LAGUIOLE
Une lame de légende.
Daniel CROZES

»
BRAS:
Laguiole, Aubrac, France
Editions
LE ROUERGUE

»
De corne et d'acier:
l'épopée du couteau de laguiole
Un livre de
Daniel Crozes