THE DOUK-DOUK KNIFE
The COGNET house (Cognet Cutlery Manufacture - MCC) was founded in 1835 in Thiers, capital of the french cutlery industry and in 1929 the firm innovated by devising a revolutionary knife that was to make its reputation: the DOUK-DOUK. This legendary object, simple yet sturdy and with a matchless cutting edge to it, was quickly to become the most valued knife in the French colonies and, as time went by to take on an image that conjured up the vast plains of Africa, the caravans, colonies and so on.
It was even to be used as money with remote populations who turned it into a cult object.
Even today the DOUK-DOUK still fires the imagination of the many people who own one and through it they are cast into exotic adventures from the start of the last century.
COGNET CUTLERY
The
Cognet Cutlery Manufacture
designer and manufacturer of the famous Douk-Douk kinfe.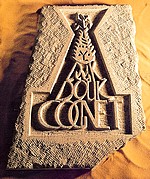 Douk-Douk, a knife that has hardly changed since its conception in the early last century, only concessions to modernity: A range line colors with a stainless steel blade edge worthy of his steel tempered origins.
It has its own history with an amazing journey, initially designed for the market in Oceania, the heyday of France in these countries, it was finally fitted for better and sometimes for worse, the peoples of Africa.
The Atlas mountains to deep jungles of Africa Black dunes of the Sahara to the shores of Mauritania, it is still worn by many workers, adventurers, explorers and warriors sometimes...
Knife hunter, fisherman, explorer, adventurer, tool or weapon, formidable success of the Douk-Douk kinfe is such important that many copies have been tried with varying degrees of success.
Even today it remains the perfect companion for hikers, the camper, fisherman, hunter or handyman, the perfect companion for all lovers of nature and authentic objects, sturdy, quiet, original, gentle care.
It is not uncommon for an owner of Douk-Douk be challenged by another expert who asked him where he bought it, how long he has, etc., a conversation begins with a stranger...
The Douk-Douk knife is not only a knife, it's also a legend...