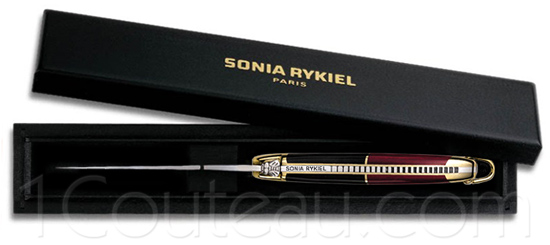 THE SONIA RYKIEL LAGUIOLE KNIFE :
In 1995, Sonia Rykiel creates a knife for the FORGE DE LAGUIOLE, the famous couture designer was the first woman to give the country shepherd's knife a feminine dimension.
She designs a very elegant version of the traditional, basic model. The handle is made of red and black, dressed in red and black and presented in a gift box with golden lettering, the Sonia Rykiel model is a truly precious object.
Stained wood and the joints are made of solid brass with no visible join.
On the back hand, the famous bee is stylized.
All those characteristics give it great elegance.

Sonia Rykiel pocket knife
made in Forge de Laguiole, Laguiole, France
125.29 EUR

Box 1 folding knife stamina red/black handle
design : Sonia RYKIEL

Sonia Rykiel opened her first store in May 1968 in the "Rue de Grenelle, Paris Rive Gauche". In 1962, she worked for Laura, her estate at the time was the knitwear, pullover.
In 1970 she was crowned "Queen of knitting", partisi a wardrobe suited to the personality of each woman, she gradually form her style who is recognizable around the world and whose main lines are black, the stripes, lace, rhinestones, and the Scriptures on the sweaters.
Sonia Rykiel is also a writer, designer, actress, gastronome.