un couteau > Johnny-Hallyday, Historical razor hand golded with marking Johnny Hallyday
Johnny-Hallyday
Historical razor hand golded with marking Johnny Hallyday
Johnny HALLYDAY razor.
The official razor is marked Johnny Hallyday in gilding.
It's a «historical» rasoir because the blade is made from sketch old of 50 to 100 years in carbon steel C135, recover and finished in Thiers.
The Johnny Hallyday razor is presented in a wood/steel box and is furnished with a authenticity certificate controled by the official Johnny Hallyday organization.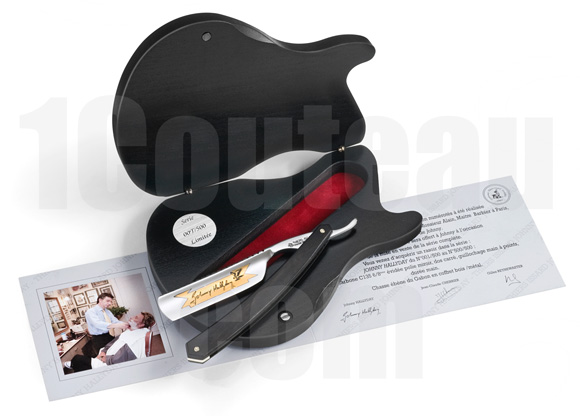 Johnny-Hallyday, Historical razor hand golded with marking Johnny Hallyday
made in France



:: 389 EUR ::

Official JOHNNY HALLYDAY razor with hand marked «JOHNNY HALLYDAY» gilded
furnished in a steel-wood guitar case and with a authenticity certificate


»
The Standard Knife Collector's Guide:
Identification & Values
from Roy Ritchie, Ron Stewart

»
Levine's Guide to Knives and Their Values
Bernard Levine

»
French Lessons: Adventures with Knife, Fork, and Corkscrew
Peter Mayle

»
Steak Lover's Cookbook