un couteau > PIROU Le Thiers knife by Goyon-Chazeau, Pocket knives
PIROU Le Thiers knife by Goyon-Chazeau
Pocket knives
Rewarded in particular by Coutelia d'Or, the line of Thiers of Denis Goyon remains a reference as regards cutlery.
The choice of materials, the quality of the completions and the pure silhouette of Thiers of Denis Goyon are faithful to the top-of-the-range image of the production of its cutlery.
Companion of the brotherhood of Couté de Tié, Denis Goyon endeavoured to preserve the sober lines imposed by Jurande du Thiers all while bringing his know-how there and the completion "any metal" dear to his manufacture.
Thus the Thiers PIROU is a closing knife, with the top of the spring decorated with a stylized -château du Pirou- , remarquable place of Thiers wich is now occuped by the tourism house.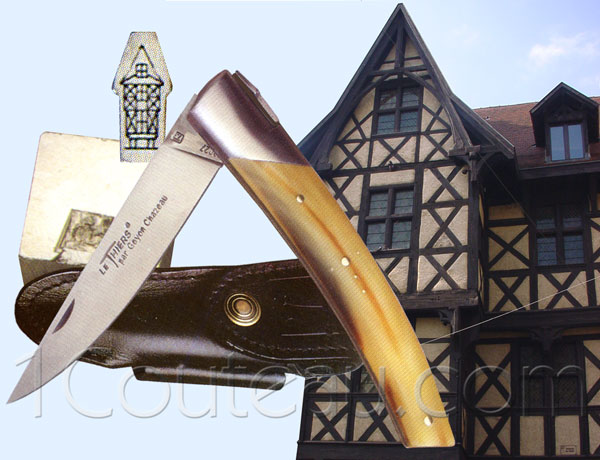 PIROU Le Thiers knife by Goyon-Chazeau
Sandwick 12 C27 stainless steel blade length 9cm, soft brushed finition,
handle 12cm, total length open knive 21cm,
top of spring with "la Maison du Pirou" stylized,
handmade guillochage.
---
PIROU Le Thiers knife by Goyon-Chazeau
blond tip horn handle
made in France



146.11 EUR

PIROU Le Thiers pocket knife by Goyon-Chazeau
blond tip horn handle
Le Thiers black full flower leather sheath for belt
made in France



118.2 EUR

PIROU Le Thiers pocket knife by Goyon-Chazeau
blond tip horn handle
---
PIROU Le Thiers knife by Goyon-Chazeau
amourette wooden handle
made in France
127.74 EUR

PIROU Le Thiers pocket knife by Goyon-Chazeau
Amourette handle
Le Thiers black full flower leather sheath for belt
made in France
104.71 EUR

PIROU Le Thiers pocket knife by Goyon-Chazeau
Amourette handle
made in France




146.21 EUR

PIROU Le Thiers pocket knife by Goyon-Chazeau
Amourette handle with corkscrew
Le Thiers black full flower leather sheath for belt
---
PIROU Le Thiers knife by Goyon-Chazeau
ebony wooden handle
made in France




125.44 EUR

PIROU Le Thiers pocket knife by Goyon-Chazeau
Ebony handle
Le Thiers black full flower leather sheath for belt
made in France




103.4 EUR

PIROU Le Thiers pocket knife by Goyon-Chazeau
Ebony handle
made in France




143.28 EUR

PIROU Le Thiers pocket knife by Goyon-Chazeau
Ebony handle with corkscrew
Le Thiers black full flower leather sheath for belt

made in France

»
The Standard Knife Collector's Guide:
Identification & Values
from Roy Ritchie, Ron Stewart

»
Levine's Guide to Knives and Their Values
Bernard Levine

»
French Lessons: Adventures with Knife, Fork, and Corkscrew
Peter Mayle

»
Steak Lover's Cookbook