un couteau > Regional Provence knife, LE PROVENÇAL knife
Regional Provence knife
LE PROVENÇAL knife
The Provence knife:
Where that you combine will always have with you happiness to divide.
Nature offered the iron ore, the olive groves, the sun and the song of the cicadas, it was enough to add to it the complicity of a cutler and in love with its country so that is born the PROVENCAL, knife of Provence.
Contrary to the industrial productions, this knife entirely produced with the hand has a heart and will become for you a faithful companion.
Its steel blade Sandvik 12c27 is guilloched with the emblem of the sun, its handle cut in régionnaux wood such as Olivier, associates the softness of the touch the perfumes of Provence.
Its widened form points out the body of the cicada and ensures a perfect catch in hand. Its finely guilloched spring of sheets of olive-tree is decorated of a cicada, emblem of Provence and joy in life.
G. Julien and Cutlery Au Sabot creation.
LE PROVENÇAL knife decorated with olive branch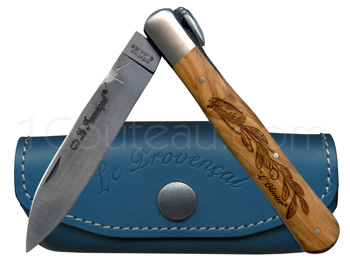 Regional Provence knife, LE PROVENÇAL knife decoration Olive -12CM-
Pocket knive

made in France
93.47 EUR

Le Proven�al -Olive- folding knife - Olive wood handle decorated with Olive - 1 satin stainless steel bolster - delivered with superb Max Capdebarthes full flower horizontal leather sheath (for belt)


LE PROVENÇAL knife decorated with olive branch -12CM-
made in France




85.73 EUR

Le Proven�al -Olive- folding knife - Olive wood handle decorated with Olive - bright brass bolster and plates - polished sandvik blade
delivered with superb Max Capdebarthes full flower horizontal leather sheath (for belt)

LE PROVENÇAL knife decorated with vine

LE PROVENÇAL knife sculpted with vine -12CM-
LE PROVENÇAL knife decorated with the sun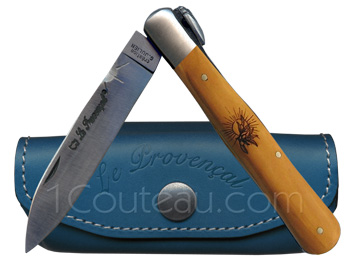 Regional Provence knife, LE PROVENÇAL knife decoration Sun -12CM-
Pocket knive
made in France




81.84 EUR

Le Proven�al -Sun l'Olivier- folding knife - Olive wood handle decorated with Sun - 1 satin stainless steel bolster - delivered with superb Max Capdebarthes full flower leather belt pouch (horizontal)



»
LES PLUS BEAUX VILLAGES DE PROVENCE
Un livre de
Michael Jacobs
et Hugh Palmer

»
UNE ANNÉE EN PROVENCE
Peter Mayle

»
PROVENCE TOUJOURS
Peter Mayle

»
LE BONHEUR EN PROVENCE
Peter Mayle, Jean Rosenthal

»
LA PROVENCE A VOL D'OISEAU
Peter Mayle

»
The Standard Knife Collector's Guide:
Identification & Values
from Roy Ritchie, Ron Stewart

»
Levine's Guide to Knives and Their Values
Bernard Levine

»
French Lessons: Adventures with Knife, Fork, and Corkscrew
Peter Mayle

»
Steak Lover's Cookbook